If you wish to wow your bride to be with a glamorous engagement ring, then Riddles Jewelry is the best place to look. With over 60 years in the business, they offer a wide variety of rings that will surely capture the heart of your bride. Here are some of them.
Ladies' Treated White and Blue Diamond Engagement Ring
For ladies who wish to add in a splash of color into her accessories, this would be your best option. This ring features a white gold band paired with 1.5 carats of white and blue diamonds. With its brilliant colors, it will surely capture the attention of your bride to be.
Ladies' Yellow Gold Diamond Engagement Ring
Riddles Jewelry redefines the look of the classic gold ring. While white gold bands tend to be the first choice for engagement rings, this is a non-traditional ring which is recommended for women who looks dashing in gold. Plus, it comes with a square cut diamond in the center combined with smaller inset diamonds on either side.
Ladies' Square Cut Diamond Engagement Ring in White Gold
This ring offers a glamorous look with a modern sparkle, which is great for women of all ages. With a large square cut diamond plus 14 individual diamonds carefully added into it, your bride to be will surely be dazzled by this masterpiece.
Elegant Vows Cluster Engagement Ring
If you are in search for an elegant ring with an affordable price tag, then this Riddles Jewelry ring is what you're looking for. Ranging from $599 to $855, this is one of the most affordable rings in the batch. This ring comes with a band of diamonds plus a cluster of tiny diamonds in the center which serves as its main feature.
Ladies' Quad Engagement Ring in White Gold
With a large square cut diamond on the center plus a band of small diamonds on either side, this ring is the perfect choice for glamorous brides to be. This ring is offered by Riddles Jewelry for $1190 to $1700.
Ladies' Unity Diamond Engagement Ring
Featured with a set of 78 astonishing diamonds, this ring is a sure winner.  Its simple appearance combined with an air of luxury will surely capture the hearts of every bride to be. Retailed at $900 to $1285, it is actually more affordable than most people would think.
 Ladies' White Gold Unity Diamond Engagement Ring 2
Women who have a taste for luxurious items will instantly fall in love with this ring. Its main feature is a large diamond which is closely set with smaller diamonds; thus, enhancing the stone and making it appear bigger.
Ladies' White Gold Unity Diamond Engagement Ring
This ring is another piece that aims to please your bride to be. It has a modern classic look that will surely appeal to even the most discerning women. Wanting to do away from the classic look, this will definitely be a great choice for women who appreciate unique items. Plus, Riddles Jewelry reviews for this ring are impressive.
Ladies' White Gold Quad Diamond Engagement Ring
This is a simple ring that features a magnificent 1 carat diamond. With its simplicity, not every woman would find it appealing; though many will. With a large stone in the center, it projects a very classic look which is a great choice for women who loves vintage.
Ladies' Diamond Engagement Ring in White Gold
You will never go wrong with the classic look of this ring. It is accentuated with enough diamonds which were delicately placed to reveal a modern, classy and glamorous look. Its main feature is the 14 carat diamond which is to die for.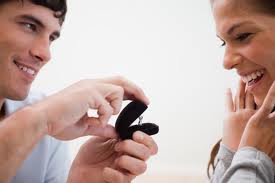 Aside from engagement rings, Riddles Jewelry also offers other accessories such as watches, bracelet, necklace etc. With a wide selection of jewelries, you will surely find something that would suit your taste and style.